There are many benefits to switching to a cloud-based and mobile construction management system. Here are some of the most noticeable.
Use your smartphone, tablet or laptop
Access all your project files from any of your devices. Project information adapts to your device, whether you are at a desk, in a meeting with your tablet, or in the field with your smartphone.
Simple
From the user interface, to the help menu, to our support team, Fluid was designed for minimal training and maximum users.
Affordable
Fluid is competitively priced with one low, simple, monthly fee for unlimited users.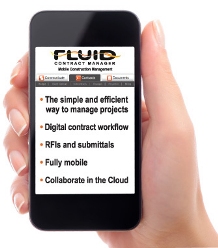 One spot for all your project files
Manage all of your project information in one spot in the cloud. All your contracts, plans, specs, spreadsheets and more can be stored and accessed in the cloud.
Speed
We have kept the user input screens to a minimum and created fast-fill form fields. Whether accessing from your smartphone, tablet or desktop, Fluid has been designed for efficiency from all aspects.
Maximum users
We believe that a project runs better with more communication and collaboration, so we encourage users to sign up and use Fluid. No trying to juggle access and switching users because of limited licenses.
Quick training sessions
Get ramped up quickly right from the jobsite. Fluid was designed with simplicity in mind for all users. Our interface is intuitive and we have included step-by-step guides taking users through each process. We don't make money off of training or setup fees.
Cloud based
Fluid is kept simple by being available on a Software as a Service model. This means no installation on a server, no ongoing maintenance contracts, in fact, updates are automatically there when you log in. Our software is Cloud based, accessible from any internet connection.
Secure
Strong 128 bit SSL Encryption. Hosted by the best in the industry - Amazon Web Services (AWS) in the cloud.
Quick summary pages
Get real time information whether you are on the road, or in a meeting. Project information is summarized into multiple summary screens, allowing you to quickly view contract information and drill down into specifics as necessary.
Easy terms
Fluid allows you to subscribe on a monthly or annual basis, and allows you to stop your subscription at anytime, without penalty.
Accountability
The easy to access logs, dashboards and meeting minute items allow for transparency. It is because of this transparency that team members feel responsible for moving the project along.
Powerful reporting capabilities
Fluid CM lets you to run various reports from each document module providing consistent and timely information when you need it most.